Looking for horse livery in London? Where could be better than letting Stag Lodge Stables give your horse a loving home?
Stag Lodge Stables is offering horse owners a 5-star, seven-day full or part livery service in our brand new, separate livery stable block situated at Stag Lodge 2. With space for 18 horses, grass turnout, use of arenas and a horsewalker, not to mention Richmond Park only a five-minute horsebox ride away, we believe there is no better home for your horse.
Being a BHS and Pony Club approved Centre, you can be confident that your horse will be cared for to the highest standard by our professional and dedicated team.
As well as all of the facilities and services listed below for you and your horse, we are always happy to help advise with suitable competitions, clinics, venues to hire, and support we can give you in reaching your equestrian goals and dreams.
We hold regular lessons and outings for sharers and liveries (prices vary) and have two horse lorries on site which will enable you to travel your horse easily with our expertise.
Facilities:
Seven-day, five-star full or part livery
Liveries have use of floodlit, all-weather surface silica sand and rubber arena
Group and pairs turnout in grass paddocks. This will be restricted in wet weather and winter months when arena turnout and the horsewalker can be used instead
Lessons at a discounted price with our BHS-qualified Instructors
24-hour CCTV with people living on site to provide you with extra peace of mind
Arranged visits from the farrier, equine dentist and saddler (with any treatments/costs added to your invoice)
Horsebox hire
Opening hours:
Tuesday 8:30am – 6pm
Wednesday 8:30am – 7.30pm
Thursday 8:30am – 6pm
Friday 8:30am – 6pm
Saturday 7:30am – 5pm
Sunday 7:30am – 5pm
Seven-day Full Livery to include:
Daily mucking out with straw bed (shavings will be charged extra), and daily skip out
Basic hard feed (nuts, chaff, sugar beet) twice per day
Hay or Haylege (three times per day)
Daily grooming
Exercising (hacking, schooling or lunging)
Tack cleaning
Rug changing
We can have your horse tacked up and waiting for you if you are tight on time
Part Livery
We are delighted to be able to offer a Part Livery Service which includes all of the options listed above with the following exceptions: grooming, tack cleaning, lunging and schooling.
If you'd like to know more about this option and get a full breakdown of what is included, please contact us.
Our Livery Services have proved incredibly popular. For more information, pricing or to be added to our waiting list, please call us on 020 8974 6066 or email the office.
Stag Lodge Stables' Livery Service provides your horse with the best care possible, in a brand new stable block with grass turn-out and use of arenas and a horsewalker.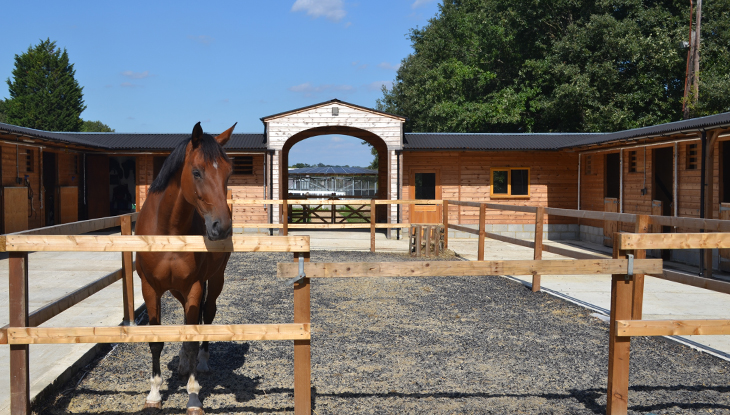 5-STAR, SEVEN-DAY LIVERY SERVICE FOR YOUR HORSE