Horse Riding For Children
Do you have a pony-mad child who wants to learn how to ride, care for ponies and meet other pony-mad friends? If the answer is yes then we are the stables for you!
Here at Stag Lodge Stables we cater for children from the age of three on our little Shetland ponies right up to 16-year-olds who want to take on the more challenging disciplines such as jumping or dressage. We offer everything from one-off lessons to full courses, for total beginners right up to advanced level, and we also organize regular fun competitions.
We offer Pony Week Courses in all school half-terms and holidays for children from the age of five, and also hold our hugely popular Pony Club meetings every weekend (except during the school summer holidays). Horse riding for Children at Stag Lodge can be booked on a more irregular basis through Private Lessons or if you wanted to make more of a commitment then we hold Group Lessons that take place on a weekly basis.
Stag Lodge is also a large Pony Club centre, enabling children who do not own their own pony not only the chance to learn how to ride but to be able to care for and look after ponies while gaining badges and certificates (not to mention gaining confidence, experience and having a great time!). We have been the Pony Club Quiz Champions and have been runners up and placed in the National Pony Club Championships several times! We offer a variety of outings for our Pony Club members to big equestrian events throughout the year including the Badminton Horse Trials in May, the Royal Windsor Horse Show in the summer and the London International Horse Show at Olympia in December.
As a British Horse Society-approved riding centre we are inspected at least once a year and only pass if we meet the most stringent standards of safety, instruction and horse care. Furthermore, a BHS Inspector could just arrive unnanounced at any time, so we always keep our standards up!
Stag Lodge also offers fully approved BHS Courses for children from the age of 13 years upwards, along with many other riding and horse-care courses – please see the Courses & Training page for more details.
If you're interested in riding courses for children during the school half-terms and holidays, we also offer our incredibly popular Pony Week Courses.
We offer a huge range of riding courses and opportunities for children to learn to ride in a safe and secure environment.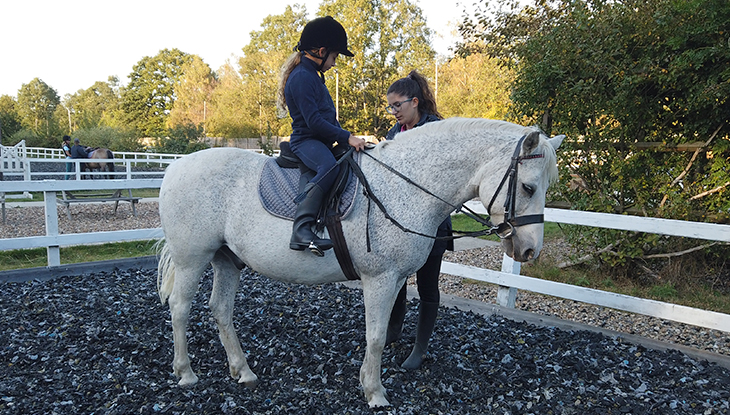 LEARN TO RIDE, CARE FOR PONIES, MAKE NEW FRIENDS!