Private Lessons for Children
Private lessons are individual 30-minute or 60-minute one-to-one lessons that take place in one of our seven on-site arenas at Stag Lodge 2 or in Richmond Park.
Perfect for the novice rider just off the lunge and in preparation for joining Group Lessons, these lessons are also ideal for the more advanced rider whose own needs and requirements determine the content of the session.
Private Lessons are great for those wishing to build upon their riding skills or to progress towards a personal goal; regular Private Lessons at Stag Lodge Stables can provide this development on a one-to-one basis, at a pace and level to suit the rider individually.
Initially a private one-to-one lesson will be off-lunge in an arena at Stag Lodge 2. Children must be capable of riding off the lunge in order to book this lesson. At this stage, lessons can be booked as and when – you can pay as you ride – but our most popular option is to buy a block of 10 lessons, as you then get one extra lesson free.
Once the Instructor is happy that you are confident and in control of the horse, you can progress to a Ride & Lead in Richmond Park or on Wimbledon Common. Here, the Instructor rides alongside you, with your horse on a lead rope. Again, once the Instructor is confident in your abilities you can be unclipped and ride solo. Reach this point and you have accomplished a real milestone – horse riding solo through some of the most beautiful green space in London!
We also offer Private Jump Lessons for children. These are 30-minute or 60-minute lessons that take place in select arenas at Stag Lodge 2. The lessons are tailored dependent on experience and a jump assessment must be carried out before a jump lesson can be booked.
A body protector must be worn for all jump lessons. Please note that we do not provide this as part of the lesson.
Private Lessons give you one-to-one tuition so that the Instructor can just focus on you and your riding.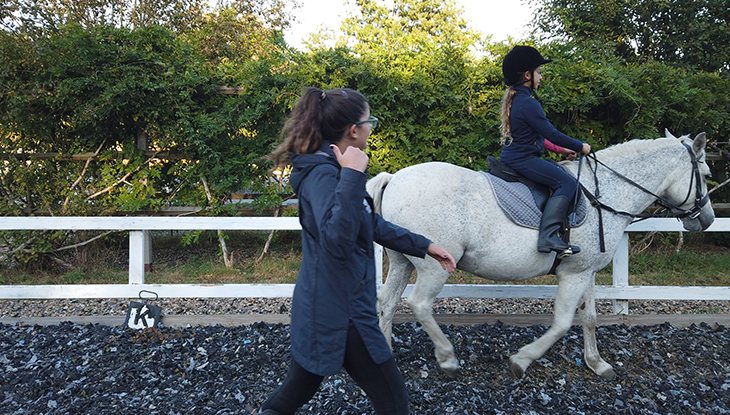 BUY 10 PRIVATE LESSONS – GET ONE FREE!