3-6 Year Olds – Pony Park Lessons
Our Pony Park Lessons are the perfect way to introduce your child to horse riding.
We take children from the age of three (the only stables in the area to do so) on our gorgeous Shetland ponies. A Pony Park Lesson is a 30-minute Lead-Rein lesson on special pony tracks in leafy Richmond Park on the edge of London. It is a safe and incredibly rewarding introduction to the equestrian world.
These are Lead-Rein sessions, meaning that one of our trained Instructors leads the pony at all times so children are fully supervised. Designed to develop familiarity with ponies whilst building confidence, the lessons are instructional with the aim of introducing skills slowly and safely. The lessons will include walking, building up to trotting and may also include on-pony games such as 'round the world' – a great way to build balance and confidence on horseback. Lead-Rein sessions do not include cantering. A Pony Park Lesson will not only be instructional but great fun too.
If your child is five years or older and confident in walk and trot then he or she can move on to Private one-to-one Lunge Lessons. If you are unsure whether your child is ready to move up, please feel free to discuss this with one of our qualified Instructors or staff members.
A Pony Park Lesson is the ideal introduction to the world of ponies for your little one. It is a gentle walk through leafy Richmond Park and lasts 30 minutes.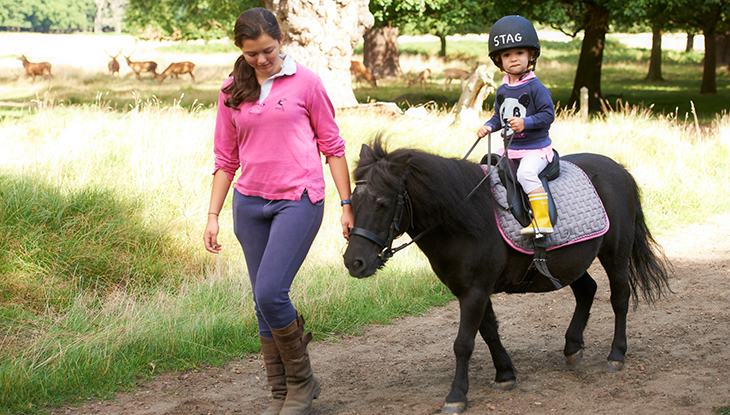 THE PERFECT INTRODUCTION TO HORSE RIDING