Semi-Private & Group Hacks for Adults
If you're an accomplished or experienced rider and want to get out and explore the beautiful horse tracks of Richmond Park, then a Semi-Private or Group Hack from Stag Lodge 1 is the perfect riding session for you.
We'll need to assess you first if you're new to Stag Lodge Stables – you must be confident and comfortable in walk, trot and canter (off lead-rein). For the assessment ride you and one of our Instructors will head out into Richmond Park for a hack either on or off-track according to Park signage on the day.
Semi-Private Hack
This session is perfect if you want to ride in Richmond Park with a friend, maybe to introduce them to the joys of riding. Your friend need not be as experienced a rider as you, indeed may even be a complete beginner, but in this one-hour session two of you will ride out with one Instructor. This can be two experienced riders accompanied by the Instructor, or one experienced and one novice; in this instance the novice will be attached to the Instructor via lead-rein and you will ride at the novice's pace.
Group Hacks
The one-hour Group Hack is a great choice if you want to ride with some of our other experienced riders. A minimum of three, maximum of six experienced riders will head out with one (or possibly two) Instructors to enjoy the beauty of Richmond Park or Wimbledon Common. The Group Hack heads out generally every weekday (Tuesday to Friday) at 10am, but it must be booked in advance.
Advanced Group Hack – Saturday Morning
Just like the weekday Group Hack, this offers experienced riders the chance to explore the wonders of Richmond Park on horseback alongside some of our other experienced riders.
Setting off every Saturday morning at 8am, the Group Hack lasts for one and a half hours. It gives riders the chance to get in some early morning canters (sometimes as the sun is rising!) and in the spring/summer the opportunity to explore the expanse of Richmond park off-track (as and when permitted by the Park).
Again, The Advanced Group Hack must be booked in advance. Please note that we cannot allow you to join this ride without a one-hour private assessment first (unless we know you, of course…). This is for your own safety. This ride is a faster hack and only suitable for those with the relevant riding experience.
There's nothing quite like a hack through Richmond Park on a sunny day. Once you have reached a competent level, you can book up, turn up and go!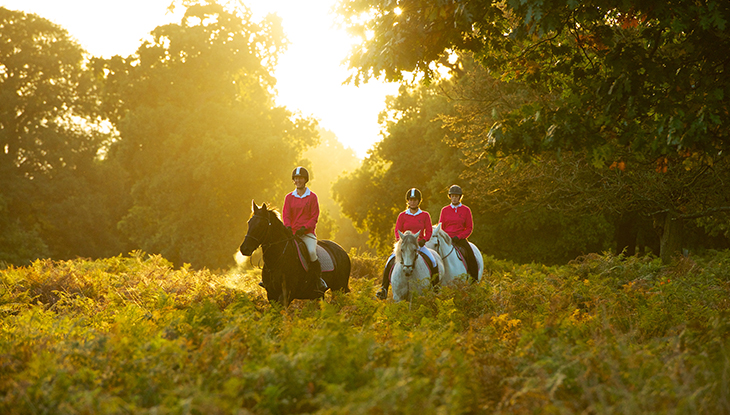 EXPLORE RICHMOND PARK ON HORSEBACK