These are our most popular children's courses, and they always book up fast, so get in quickly to avoid disappointment! Pony Week Courses are open to children aged five to 12 and take place from 10am to 3pm every Tuesday through Friday during all school half terms and holidays.
We also now offer single days as well. Please see dates below.
What happens in a Pony Week Course?
Children are split into small groups according to age, friendship groups and riding ability. Each day includes two rides, as well as stable management lessons such as grooming and mucking out. Friday of every week is competition day, with themed competitions in the morning and afternoon. Every child leaves with a rosette as a reminder of their wonderful week with the ponies! We make the courses great fun, and we ensure that everyone has a fantastic time.
These are perfect for your daughter or son to get actively involved in all aspects of horsemanship and equine care.
Dates for all 2021 Pony Week Courses:
Spring Half Term
2022 dates to be confirmed
Easter Holidays
2022 dates to be confirmed
Summer Half Term
2022 dates to be confirmed
Summer Holidays 2021
Tues 13th – Fri 16th Jul –  Fully Booked
Tues 20th – Fri 23rd Jul – Fully Booked
Tues 27th – Fri 30th Jul – Fully Booked
Tues 3rd – Fri 6th Aug   –  Fully Booked
Tues 10th – Fri 13th Aug – Fully Booked
Tues 17th – Fri 20th Aug – Fully Booked
Tues 24th – Fri 27th Aug – Fully Booked
Tues 31st Aug Pony Day    Fully Booked 
Tues 1st Sept Pony Day     Fully Booked
Autumn Half Term 2021
Tues 19th – Fri 22nd Oct
Tues 25th – Fri 29th Oct
Single Pony Days over Christmas Holidays 2021
Dates to come
All Pony Week Courses take place at Stag Lodge 2 – click here for directions – and are suitable for children from five years old.
PLEASE NOTE ONCE PAYMENT HAS BEEN MADE, WE NEED AT LEAST 14 DAYS' NOTICE FOR ANY CHANGES AND CANCELLATIONS.
Lunch is not included so please ensure your child brings their own packed lunch with them.
If you have any questions about our Pony Week Courses, please email us.
Intermediate & Advanced Pony Week Courses
Intermediate Pony Week
The next natural step following our standard Pony Week, this course is open to children aged 9-12 years and is great for those really wanting to advance their current riding skills.
With more focus on dressage and showjumping, this course really pushes our younger riders to that next level.
Course cost: £350
Taking place from 10am-3pm every Tuesday through to Friday on select dates.
Advanced Pony Week
For children aged 10+ who are able to walk, trot, canter and jump a small course, our Advanced Pony Week is a fantastic way for them to develop their riding skills and try a wide range of riding disciplines over the course of the week.
This includes: dressage, showjumping, arena-based cross country and on one of the days a hack out in Richmond Park. On our Advanced Pony Week, children are also allocated the same pony for the duration.
Course cost: £400
Taking place from 9am-3pm every Tuesday through to Friday on select dates.
For Intermediate and Advanced Pony Week Course dates, please contact the office.
Pony Week courses are a great way to get involved with horses, learn about feeding, stabling and so on and mix with other like-minded pony-mad friends.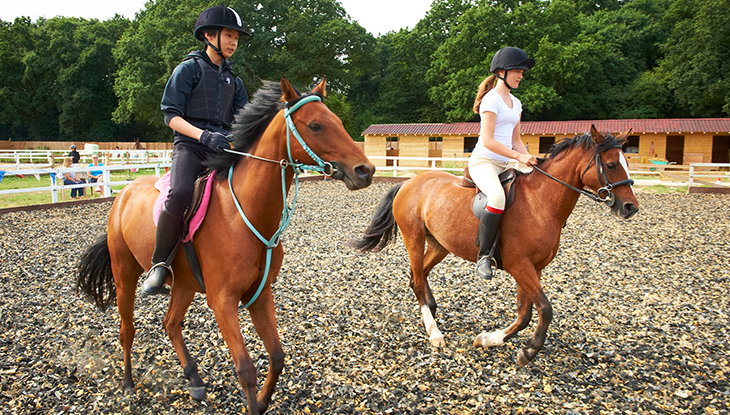 A GREAT WAY TO SPEND TIME WITH PONIES