Here at Stag Lodge Stables we offer a huge variety of horse riding experiences in both Richmond Park and Wimbledon Common (both of which are literally right on our doorstep), along with structured lessons for those who want to ride on a regular basis. Of course, if you're new to horse riding and would like to see how you take to it, why not book a 30 minute ride with us and see how you get on (but trust us, you'll be hooked…).
Whether you are looking for a sedate amble or fancy a faster group hack through the bracken-filled expanse of Richmond Park (the largest open green space inside the M25) then we can cater for you. We offer one-to-one individual and group rides for adults from Stag Lodge 1 situated at the Robin Hood corner of Richmond Park, as well as one-to-one Lunge Lessons and Private Lessons in our Stag Lodge 2 purpose-built, seven-arena site just down the road. In these arena-based sessions we'll help you to gain skill, knowledge and confidence, improve your posture and technique and develop horsemanship levels you possibly don't even know you possess. We have more than 25 instructors and 70+ horses that we will allocate according to your ability and experience, making it a fun, safe and thoroughly enjoyable encounter.
Horse riding is not only fun, it's a great workout for both body and soul – physically boosting the cardiovascular system and mentally easing stresses on the mind. You might think that the rider is not doing much exercise, but an hour's ride can burn similar calories to a 30-minute jog or cycle ride – as much as 400-500 calories!
Who'd have thought it… a hobby that is not only totally relaxing and de-stressing but during which you also burn calories, lose weight, get fit and have fun. Beats the gym any day!
Why not pop in and see why horse riding for adults at Stag Lodge Stables is in such demand?
Whether it's a lunge lesson in one of our seven arenas or a fantastic hack across Richmond Park, horse riding can be remarkably rewarding – good for mind, body and soul…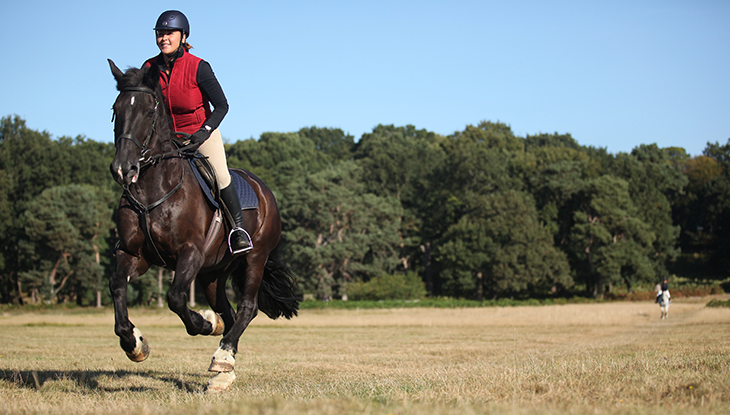 A GREAT WAY TO EXERCISE & CALM YOUR MIND