Stag Lodge Stables is a British Horse Society-accredited school, which means we can offer and support you with a range of BHS Training Courses geared to all aspects of equine life, and for all levels of interest and aspiration.
Taking the BHS exams is a great way of improving your equine skills and knowledge, and of gaining recognized qualifications from the UK's leading body responsible for maintaining standards in equine tuition.
The starting point is BHS Stage 1, the first level on the BHS career ladder which will also aid horse owners in caring for their own horse.
At Stag Lodge Stables we are approved to be able to offer the training for this course.
Care
Be able to put on and adjust saddles, bridles and boots – as well as be able to clean tack
Know how to lead a horse safely in a variety of environments and identify regular field checks
Have an awareness for the after work care of a horse and the different rugs they may need
Have some understanding of horse behaviour and health and be able to recognise any abnormalities
Ride
Be able to mount from a block and adjust girth and stirrups for comfort
Be able to walk, trot and canter and ride on both reins, showing changes of direction, turns and circles
Show an understanding for riding position both with and without stirrups, and when working in a forward seat over poles and in canter
Be able to ride in a group and show some individual work with awareness and respect for other riders
Be assessed on your ability to recognise diagonals in rising trot and canter leads applying aids to move around the arena and between paces
Be aware of the horse's needs and comfort when dismounting and returning to the stable
The course is suitable for anyone over the age of 13 who can walk, trot and canter. No previous stable management experience is necessary, but you do need to commit to the weekly schedule. The course fee covers the training at Stag Lodge Stables only; the exam entry fee is not included. It is your responsibility to enter the exam and pay the entry fee via the BHS website.
Please note: Anyone wishing to complete their Stage 1 must also complete (in addition to the above) the Ride Safe Award. Details for this can be found on the BHS website, or you can contact the office for more information.
Next course dates:
For more information on BHS Stage 1 please contact the office.
Horse care and stable management are both covered extensively on the multi-level BHS Courses which are ideal for participants who want to pursue a career with horses.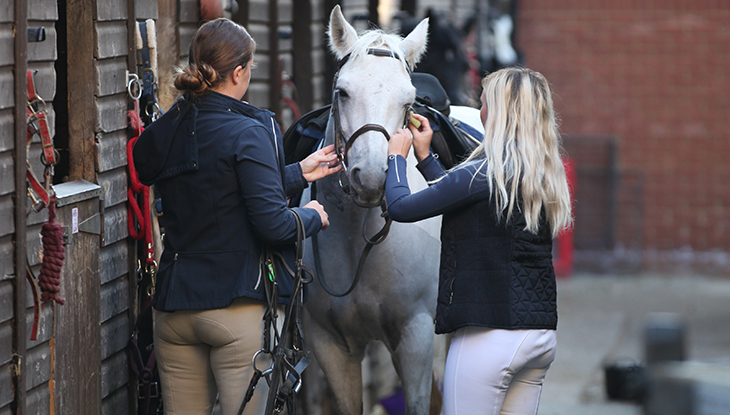 A GREAT WAY TO FURTHER YOUR EQUINE LEARNING