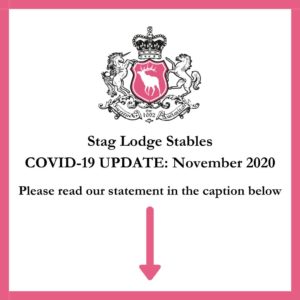 COVID-19 UPDATE: NOVEMBER 2020 
A message to all our customers,
We have been working hard with the relevant governing bodies to understand what the latest lockdown restrictions mean for our stables. We have also been keen to understand if there are any parameters in which we can allow riding during this new period of lockdown.
Unfortunately, we have had confirmation today that we will not be allowed to open during this period and therefore Stag Lodge Stables will be closed from (Thursday 5th November). We will look to reopen on Friday 4th December.
Our online booking system remains open and you will be able to book hacks, lessons and courses that take place in the months of December and January. 
All current lessons (including weekend group lessons), hacks and courses booked to take place during the current lock-down period, will be cancelled and the credit automatically added to your online booking account.
We are working as quickly as we can to cancel all impacted rides but do please bear with us. 
In the meantime, looking after all our lovely horses and ponies remains our top priority. We know they'll miss all of you as much as we hope you'll be missing them! 
A big thank you for your continued support. It's certainly not been the year any of us imagined and we are extremely grateful to all of you. 
From all of us at Stag Lodge Stables we wish you and your families a safe November and we look forward to welcoming you back in December.