Here at Stag Lodge Stables we are proud to be a large Pony Club centre. In order to join in with The Pony Club activities at Stag Lodge Stables, you have to become a member of The Pony Club.
To become a member you can download the form using the link below, or click here. Membership is available to children until the end of The Pony Club Year or the Centre Membership Subscription Year. Once you are a member of The Pony Club, both riders and non-riders can take part in a range of activities which help you learn to ride and care for horses.
We hold both ridden and non-ridden activities to allow all members to take part, not just those with riding experience, which is perfect if you have non-riding siblings or friends that want to join in with their horsey pal! Each session, primarily focussed on Stable Management and Equine Care, is carefully structured around learning in a fun manner so that every week you build on your knowledge and experience. Members have the opportunity to work towards nationally recognized certifications and achievement badges from The Pony Club. Qualified members will also have the chance to compete against other Pony Club Centres in a range of disciplines and activities.
Pony Club members can also join in on trips to big equestrian events throughout the year including the Badminton Horse Trials in May, Royal Windsor Horse Show in the summer and the London International Horse Show at Olympia in December.
We hold Pony Club meetings every week on Saturday mornings, except during school summer holidays and half terms; they last for an hour and half and are paid for termly in advance.
To check availability please email the office.
About The Pony Club
The Pony Club is an international voluntary youth organisation for young people interested in ponies and riding. Founded in England in 1929, and granted independent charitable status on 1st January 1997, there are around 345 Branches and 480 Centres in the UK alone, of which Stag Lodge Stables is one. The Pony Club has been the starting point for a large majority of equestrian team members and medal winners.
The Pony Club is represented in no less than 27 countries with a world-wide membership exceeding 110,000 making it the largest association of young riders in the world.
The objectives of The Pony Club are:
to encourage young people to ride and to learn to enjoy all kinds of sport connected with horses and riding
to give instruction in riding and horsemastership and to educate Members to look after and to take proper care of their animal
to promote the highest ideals of sportsmanship, citizenship and loyalty to create strength of character and self-discipline
Pony Club meetings run on every Saturday morning except during school summer holidays and half terms. They are the perfect way to get to know horses and become involved in the horsey world.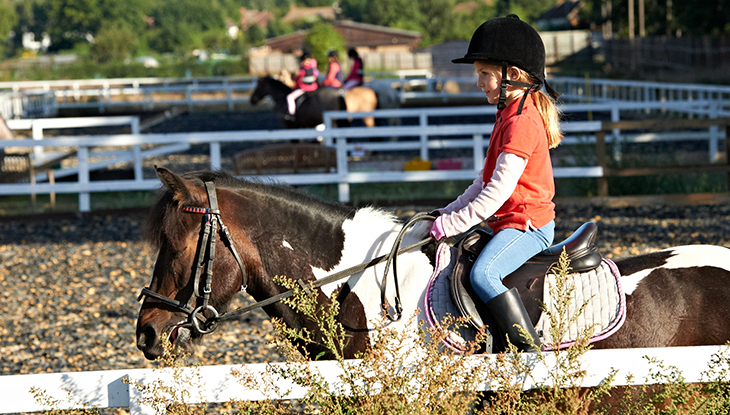 LEARN MORE ABOUT PONIES & BE PART OF A CLUB!